The UAE has recorded yet another 1,963 cases of the coronavirus on Saturday. This is the highest number of daily infections and it's for the fourth consecutive day.
A further 152,588 DPI and PCR tests were conducted and the UAE's total number of infections are 211,641.
Highest Daily Coronavirus Cases Recorded
On Saturday three patients died of Covid-19, which raises the death toll to 674.
2,081 people recovered from the virus on Saturday which takes the active cases to 22,867, which is a drop of about 120 from Friday's total.
To date, the total number of recoveries recorded in the UAE is 188,100.
Since the outbreak, over 21 million tests have been conducted across the Emirates which is one of the largest screening campaigns per capita in the entire world.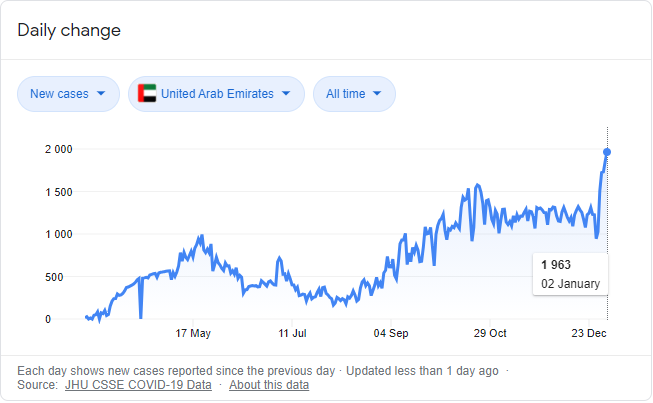 Vaccination Campaigns Underway
There are currently two voluntary and free vaccination campaigns are under way in the UAE.
China's Sinopharm vaccine, is on offer throughout the country. The vaccine is administered in two doses over 21 to 28 days, and is 86 per cent effective, according to UAE regulators.
The Pfizer-BioNTech vaccine is also authorised for use in Dubai but Authorities have set out priority groups for inoculation before making it available to the wider public. Last week, Dubai authorities said they planned to vaccinate at least 70 per cent of the emirate's population with the Pfizer-BioNTech vaccine by the end of this year.
Speaking about the vaccination campaigns, Farida Al Khaja, chairwoman of Dubai's steering committee for Covid-19 vaccinations said:
"We are targeting to vaccinate approximately 70 per cent of the population of Dubai by the end of 2021. We want to reach the herd immunity that is required."