Rulers and Royal family members of the UAE gathered to attend the late Sheikh Sultan bin Zayed Al Nahyan's funeral and performed prayers yesterday 20th November.
UAE Rulers perform funeral prayers
Scores of Emirati Royal family members, dignitaries, officials, Crown Princes and rulers descended upon the Sheikh Sultan bin Zayed The First Mosque in Al Bateen to perform funeral prayers.
Among those in attendance were Dubai's Crown Prince, HH Sheikh Hamdan bin Mohammed Al Maktoum, Emir of Sharjah Sultan bin Muhammad Al-Qasimi, Ajman's Ruler Humaid bin Rashid Al Nuaimi III and Sheikh Saud bin Saqr Al Qasimi, Ruler of Ras Al Khaimah.
Sheikh Sultan bin Zayed laid to rest
UAE's Deputy Prime Minister HH Sheikh Mansour and Abu Dhabi Crown Prince His Highness Sheik Mohamed bin Zayed Al Nahyan led the funeral carrying Sheikh Sultan's body to the Al Bateen cemetery, performing a final prayer before laying his body to rest.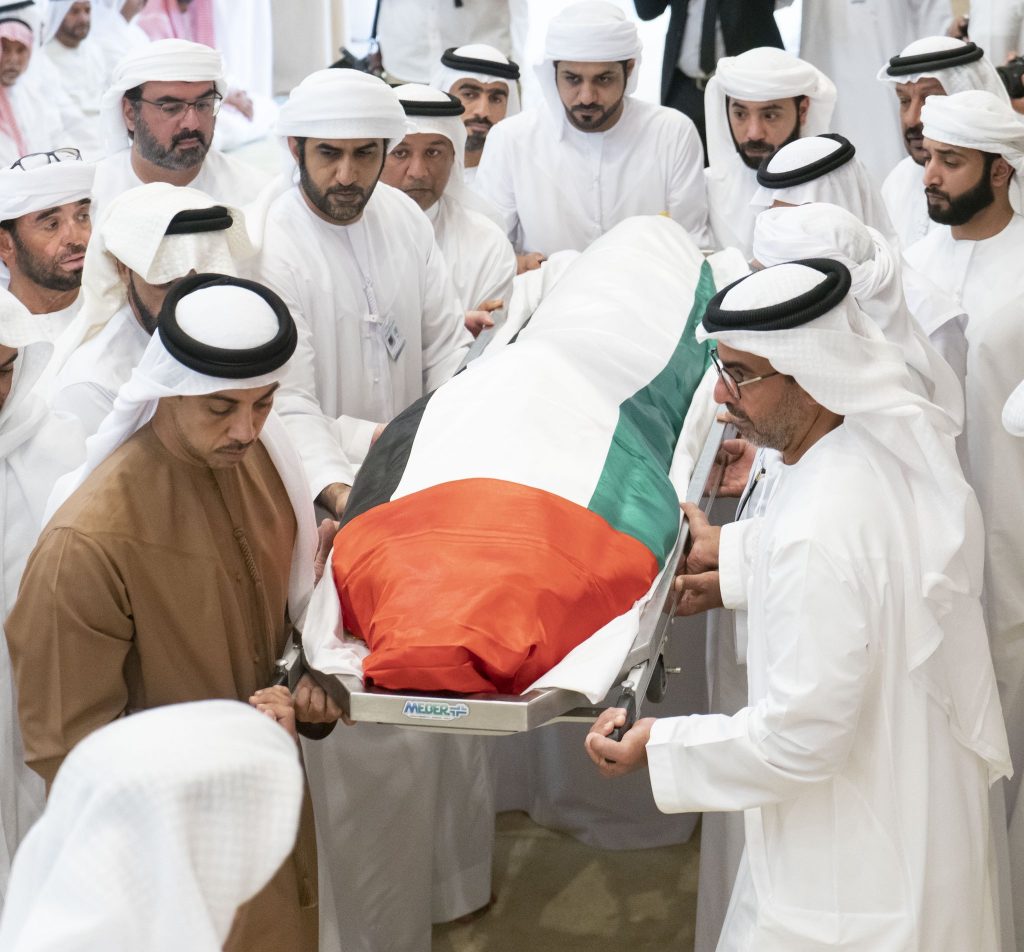 Photograph credit: WAM
Rulers and officials from the Middle East attend funeral and offer condolences
The funeral followed with Sheikh Mohamed bin Zayed and Sheikh Sultan's sons, Dr Sheikh Hazza and Dr Sheikh Khaled accepting condolences at the Al Mushrif Palace. Among the well-wishers were King Hamad bin Isa Al Khalifa of Bahrain, Mohammad Khalid Al Hamad Al Sabah Deputy Prime Minister and Minister of Interior of Kuwait, and Saudi Arabia's Prince Khalid bin Faisal Al Saud, Governor of Makkah Region and Abdul Aziz bin Salman Al Saud, Minister of Energy of Saudi Arabia.
Photograph credit: WAM
Sheikh Sultan bin Zayed passes away at 64
On Monday, 18th November, the UAE confirmed the death of Sheikh Sultan as he passed away abroad while receiving medical treatment. His body was returned to the country on Tuesday.
Sheikh Sultan was the second son of the UAE's founding father, His Highness Sheikh Zayed bin Sultan Al Nahyan, He served as the Deputy Prime Minister and as President His Highness Sheikh Khalifa bin Zayed Al Nahyan's representative.
Photograph credit: WAM
He also served as the chairman of the Media and Cultural Centre, as well as the Emirates Heritage Club amongst other initiatives.
His death was received with heartfelt tributes and condolences from UAE Rulers and foreign Prime Ministers.
خالص التعازي لشعب الإمارات ولآل نهيان الكرام في وفاة الشيخ سلطان بن زايد..أبناء زايد لهم بصمات خالدة في دولة الامارات..أبناء زايد لهم محبة مختلفة في قلب كل اماراتي..أبناء زايد شركاء تأسيس لن ينساهم الزمن..رحم الله الشيخ سلطان وأسكنه فسيح جنانه وألهمنا وشعب الامارات الصبر والسلوان pic.twitter.com/AXbEZDSrzF

— HH Sheikh Mohammed (@HHShkMohd) November 18, 2019