Holiday goers, you may want to re-plan on your vacation destination again this summer because the Ministry of Foreign Affairs An International Cooperation(MOFAIC) has issued warnings against travelling to these two islands.
Warning has been issued for Lombok and Bali
UAE's Embassy in Indonesia issued an advisory, warning Emiratis not to travel to the Indonesian islands of Lombok and Bali, due to a 6.9 magnitude earthquake that struck the islands. As of now, there's no Emirati believed to be injured by the earthquake. Citizens are urged to follow up with updates by local authorities.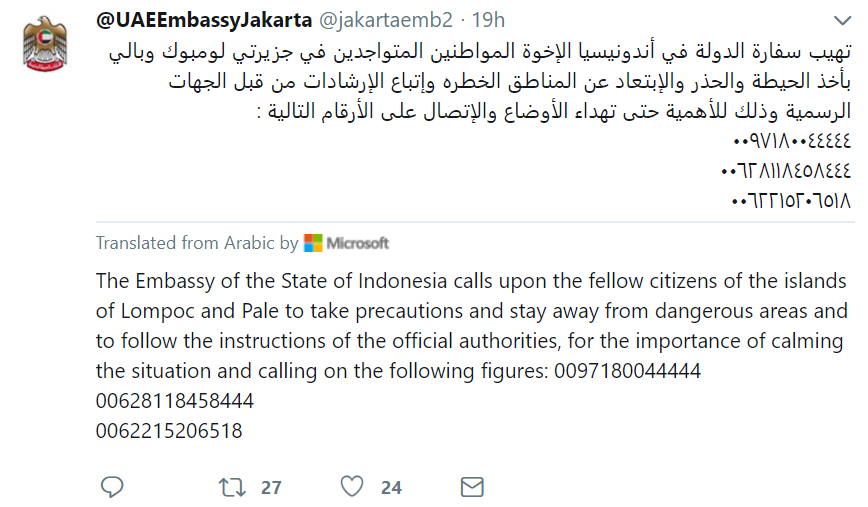 Citizens are warned from travelling to 12 countries
MOFAIC's travel warning is active on these 12 countries: Madagascar, Democratic Republic of Congo, Yemen, Republic of South Sudan, Afghanistan, Somalia, Ukraine, Pakistan, Syria, Federal Republic of Nigeria, Iraq and Libya. Besides Madagascar, which has a travel warning due to its widespread plague disease, the rest ten countries have a travel warning due to its security situation. Plus, there's a travel ban on three countries; Qatar, Lebanese Republic and Karaback.
Holidays coming up at the end of this month
Public holidays for Arafat Day and Eid-Al Adha are starting from Tuesday, August 21st to Thursday, August 23rd, followed by the weekend, totalling up to five days off, the longest weekend this year! The next public holiday after Eid Al Adha will be on November 20th for Mawlid al-Nabi, celebrating to the birthday of Prophet Muhammad(PBUH).