There's nothing quite like a family bond, especially among the UAE Royal family, in this heart-warming video with Sheikh Mohammed bin Zayed Al Nahyan and his younger brother, Sheikh Abdullah bin Zayed Al Nahyan.
Brotherly love between MBZ and Abdullah bin Zayed
In a heart-warming video, His Highness Abdullah bin Zayed Al Nahyan, the Minister of Foreign Affairs & International Cooperation, is shown opening the door of an SUV for His Highness Sheikh Mohammed bin Zayed Al Nahyan, Crown Prince of Abu Dhabi, while he was on a phone call. The Crown Prince paused his phone call to thank his younger brother, who in return, hugged him with a kiss on his arm. Check it here.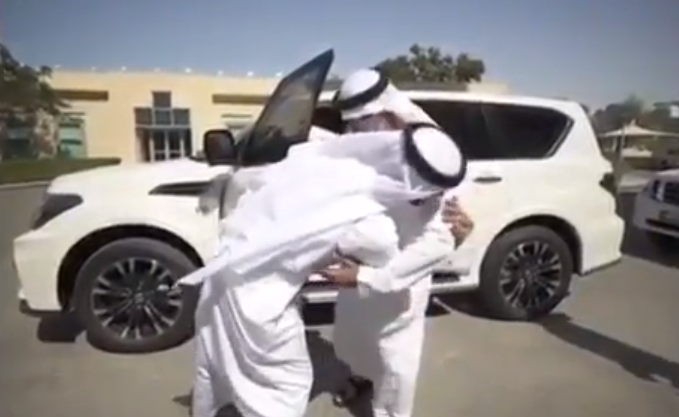 Photograph credit: BarQ UAE
Abdullah bin Zayed the man behind making UAE the most powerful passport
Just in time for 47th UAE National Day celebrations, the Ministry of Foreign Affairs and International Corporation, headed by Sheikh Abdullah bin Zayed, announced the UAE passport as the most powerful passport in the world. The UAE passport gives visa-free entry to 167 countries, beating Singapore and Germany, with visa-free entry to 165 countries.

Check out the last time when Sheikh Mohammed bin Rashid honoured MBZ
Sheikh Mohammed bin Rashid Al Maktoum and Sheikh Mohammed bin Zayed Al Nahyan have been long known for their friendship. As a tribute, Sheikh Mohammed posted a video honouring the Crown Prince last year. He said, "We invite our people to thank him through a sincere word. or an expressive image. Our leader has all our love and appreciation." Check it here.