Projects from across the world showcasing spiritial values during the holy month of Ramadan will be on display on Burj Khalifa.
Paintings will be showcased inspired by the 99 names of Allah
Every evening from 7:45pm, Burj Khalifa will be lighting up UAE Artist Art Noor's paintworks inspired by the 99 names of Allah, which has been selected out of hundreds of artworks. Art Noor is no stranger to the art scene in the country, with artworks presented at places like Sofitel the Palm, Dubai and at the World Trade Centre Souk in Abu Dhabi.
The latest show celebrates the spiritual value of #Ramadan with an inspiring display of the painter Art Noor. @artnoor_com's work has been inspired by the 99 names of Allah. Watch it on #BurjKhalifa all through the Holy month of Ramadan from 7:45 pm. pic.twitter.com/jmvBAuP14X

— Burj Khalifa (@BurjKhalifa) May 18, 2018
Don't miss out on 3D art with synchronized music
Projections by Art Noor will be followed by a 3D artshow submitted from Hungary, displaying 3D art with synchronized music. Freelusion, the agency behind the artworks, have used ten million LED lights to come up with the projections, according to Daily News Hungary. Timings of the show are every evening from 7:30pm to 10:45pm, playing every hour from Sunday to Wednesday and playing every half an hour from Tursday to Saturday.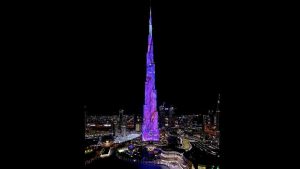 Burj Khalifa recently marked the 'Infinity War' countdown
Earlier this month, Burj Khalifa marked the countdown to the release of Marvel Studios 'Avengers: Infinity War' displaying the countdown with visuals themed to a superhero, accompanied with a light show. After the countdown, Burj Khalifa had also hosted a lazer and lights show.
One day to go! The @Avengers to be released tomorrow! #InfinityWarWithEmaar #BurjKhalifa @emaardubai pic.twitter.com/ZHMy0pDZCG

— Burj Khalifa (@BurjKhalifa) April 25, 2018