Citizens are warned about the predicted stormy weather conditions this week in the East Coast of America by the UAE Embassy in Washington.
Warning issued about Hurricane Florence
Predictions by ABC News show Hurricane Florence's winds travelling at speeds between 100 miles per hour (mph) to 145 mph at the Atlantic Ocean this week. It's classified as a 'Category 4' storm with a minimum central pressure of 944 millibars and based on the storm's tracking, it's approaching the Carolina coastline. UAE Nationals can contact UAE Embassy at Washington via phone: +97180044444 for assistance.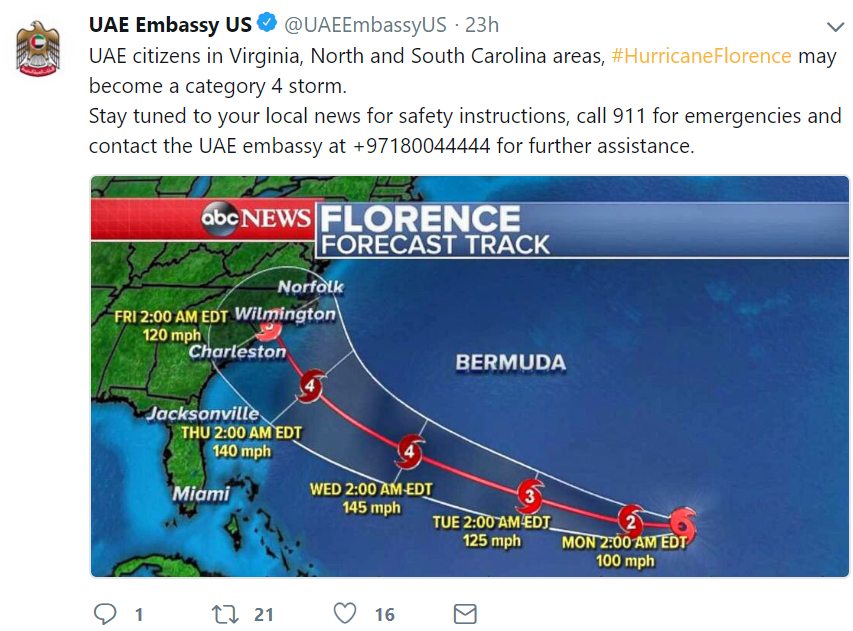 Panic among East coast states
Mass evacuations were ordered by North Carolina as their Governor, Ralph Northam ordered 245,000 people to be depopulated from the state's coastline while East Coast states Virginia and Maryland declared a state of emergency. According to Reuters, the hurricane could lead to prolonged torrential rains and widespread flooding.
Harshest storm in 60 years for North Carolina
Hurricane Florence could be the most destructive storm to hit the southern state in its history. The only time they witnessed a 'Category 4' storm was Hurricane Hazel in 1954. Its winds traveled at speeds of 130 mph, followed by severe rainy and windy weather conditions. The storm killed 19 people and destroyed an estimated 15,000 buildings, according to CNBC.
Warning issued to Emiratis in Spain
Meanwhile, UAE Embassy in Barcelona issued a warning to exercise caution by keeping away from demonstrations and political unrest. The warning reads "The Consulate General of the United Arab Emirates in Barcelona calls upon the citizens of the UAE to take precautions and avoid the places of demonstrations, and calls on citizens to contact them in emergency situations on the following numbers: (+1)0034932408550, (+1)0034669444444 0097180044444 as well Register for "My Presence" service."