Hollywood megastar Will Smith marks his Dubai stopover visiting Burj Khalifa's 154th floor to post an image with an unusual record-breaking feature you probably never knew Dubai holds!
Big Willie' style
Known for his sense of humor, Will Smith went to the 154th floor of Burj Khalifa and posted an image of himself sitting on the "highest toilet on Earth." Having a huge worldwide fan base, it was almost certain some of his fans would have an amusing response to it, saying "watch out for the window cleaner" and "taking a dump from the highest point in the world." Some followers now call him the "Fresh Prince of Dubai."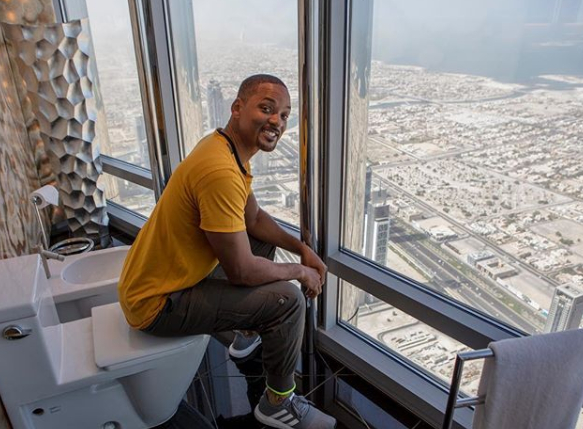 No stranger to Dubai
From skydiving with Fazza to camping in the desert with his good friend Tyrese Gibson and playing Golf with Rory Mcllroy, Will Smith's Dubai diaries unquestionably tick all the bucket-list boxes. The 50-year-old actor often makes an appearance on Dubai's clubbing circuit, showing up party hotspots like Cavalli Club, VIP Room and Barasti.
New film coming out next year
Will Smith plays the voice of Genie in Disney's latest live-action film 'Aladdin' alongside an Arab-origin cast including Mena Massoud, Nasim Pedrad and Marwan Kenzari. During this year's CinemaCon, Disney described his performance as "a little Fresh Prince, a little Hitch and a whole lot of attitude." The trailer released last week and is set to release on 24th May 2019.