Dubai Airports' Emirates Airlines dedicated Terminal 3 has opened its doors to the new restaurant, S34 Gahwa Mezza Bar which is going to give tourists a feel of traditional food in the country.
S34 is the first Emirati restaurant to open in Terminal 3
Passengers can now enjoy traditional Emirati food and coffee at S34 Gahwa Mezza Bar near gate C35 at Concourse C, which draws inspiration from "the alleys of the Al Fahidi neighbourhood." Some of the restaurant's special main course dishes are 'Ras El Hanout' lamb shoulder, meaty kibbeh flan and the moussaka, while the traditional gahwa coffee and Karak tea will suit those looking for a warm beverage before boarding their flight.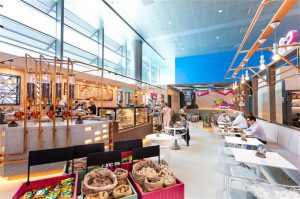 More than 7.6 million visited Dubai this spring
Latest stats by Dubai Airports revealed that passenger traffic reached 7.61 million in April, close to the amount they received in April 2017; 7.62 million. There's a range of dining options for passengers at Terminal 3, such as Jack's Bar and Grill, Wafi Gourmet, Carluccio's and Cho Gao as well as multiple fast food options.
Visas for transit tourists have been made free for 48 hours
Recently, a meeting from the UAE Cabinet ended with several groundbreaking announcements including the transit visas to be made free for 48 hours. This means the three days-long transit visa will only cost 50 dhs, giving transit passengers the chance to explore Dubai and Abu Dhabi. What's more, facts by Dubai Airports from last year revealed that 70% of passengers who arrived at Dubai International Airport were transit passengers.