Before the Eid Al Fitr celebrations started, a young girl called Sharjah Police to a fulfil a wish and the Police force's sweet response didn't only fulfil her wish but has won everyone's hearts.
She called Sharjah Police fo Eidya
Sumaya Ahmad Al Naqbi, the young girl who lives in Khor Fakkan, called the Sharjah Police hotline number before Eid Al Fitr, asking the officers for 'Eidya'. Much to her surprise, the police officer promised to fulfil her wish and within a few hours, they gave a surprise visit to her home, with an Eidya gift for her.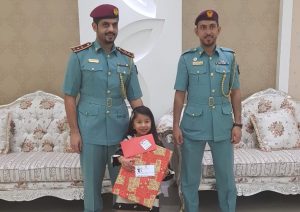 Eidya gift was in line of 'Year of Zayed' initiatives
Part of the generous initiatives around UAE to mark 'Year of Zayed', Sharjah has come up with multiple initiatives such as distributing iftar or having health campaigns. One such initiative was by Sahara Centre hosting iftar or orphans during Ramadan. All these initiatives have been conducted to honour UAE's founding father, Sheikh Zayed bin Sultan Al Nahyan and the legacy he left on humanitarianism.

Several initiatives have been going on across UAE to mark 'Year of Zayed'
Besides Sharjah, all the emirates have conducted multiple initiatives throughout the year. The most notable initiative yet has been by Dubai Police, who broke the Guinness World Record for the 'longest Iftar table', which stretched up to 6.2 kilometres and served more than 12,500 people. To achieve the record, Dubai Police worked with 35 restaurants and with 500 volunteers. The record was in line with the 'Year of Zayed' initiatives.